INSTANT PERFORMANCE
FEEDBACK
For the first time ever, understand what you're doing in the moment using real-time metrics.
See your distance (m/yd) as you swim. Calculated with 99.8% accuracy.

Track your moving and resting time automatically; no more pushing buttons as you swim.

View your strokes per minute (SPM) in real-time - it's like RPM for swimmers.

The average time it takes to swim 100m. Track average open water pace with a compatible watch.
METRICS, LIVE IN YOUR GOGGLES
See accurate, real-time metrics, and adjust your swimming on the fly.
Tracked Metrics
Pool
Open Water
Pace is the average time it takes you to swim 100m.
Seeing your pace lap-by-lap lets you know how you are performing in the moment, and motivates you to hit the goal you've been aiming for.
Open Water: Average pace for your workout  is available when paired with a compatible Apple or Garmin Watch. Using average pace in open water you'll stay on track and hit your target time.
Swim Spa: Only available in partner swim spas.
Measured in the number of strokes you take in a minute (SPM) your stroke rate is the equivalent of RPM on a bike.
This metric is updated every 1.5 seconds, enabling you to understand your output and keep a consistent speed. Keep it steady, and don't burn out.
The number of arm strokes you take in a single length of the pool.
Swimming with stroke count allows you to gauge your technique. The fewer strokes you take, the more efficient you are in the water.
The distance in meters you travel with each stroke.
This technique-focused metric allows you to prioritize the efficiency of each stroke.
Maintain a consistent pace by knowing how long it takes to swim each length.
Track your moving and resting time automatically; no more pushing buttons as you hit the wall. Focus solely on your swim without distractions, and make the most of every lap.
Forget counting laps, see your distance (meters or yards) as you swim.

Open Water: Available when paired with a compatible Apple or Garmin Watch.
Track calories burned while you swim and see the total amount when you're done.
Open Water:  Calories are displayed in app only.
Stay in the right zone and track your heart rate in real-time. You'll need a compatible Polar sensor (sold separately - Polar Verity Sense or OH1/OH1 +).
Open Water: You can also see a real-time heart rate when connected to a compatible Apple or Garmin Watch.
ANALYze and TRACK YOUR SWiMs
Gain valuable insights into your performance and track your progress over time.
PROGRESS AT
EVERY LEVEL
ALLEN
TRIATHLETE
Swimming with FORM has really kept me engaged and focused. I used to go to the pool for an hour and simply do yardage – no speedwork, no focused plan. Now I'm swimming with measured goals and focus points.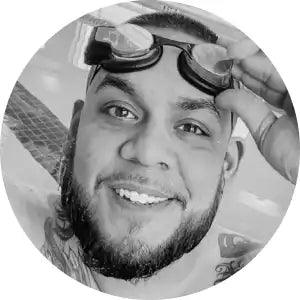 Adam
paratriathlete
My breathing, stroke count, and focus all improved exponentially within the first two weeks—the rest is history.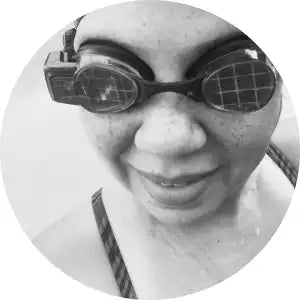 BIANCA
FITNESS SWIMMER
FORM is helping me to significantly increase my daily volume and get back to where I can easily swim 200m, 400m and 800m distance intervals.
450+ Reviews
"The single best training aid to come to swimming."
"Being able to see my live splits helps me hit 1:20 pace regularly, which blows me away."

"I swim by myself, for myself. This is the first time I've ever been able to self-correct. These goggles are not just for professional athletes, but for swimmers of all levels. These goggles are such game-changers."

"The data in the FORM goggles lens is similar to the leap forward GPS provided to runners and power has provided to cyclists."

"Using FORM in open water has been vital to pushing my performance. Seeing real-time data allows me to make real-time decisions. With FORM's app I can analyze my performance and change my technique."

"Before using FORM's workouts, I would swim aimlessly. Now, I have access to hundreds of workouts and can see them while swimming. The metrics keep me engaged and motivated. I've never had so much fun swimming."

"In the past, I'd exit the water and feel crestfallen that my split was not what I was hoping. Now, my time is live in the display, so no more disappointments."

GET FASTER. FAST.
Real-time coaching, guided workouts, training plans, and educational resources. Fast-track your journey to becoming a better swimmer.

Free 1-year trial with goggles purchase, $15/mo after.
Cancel anytime.
GET THE MOST FROM YOUR SWIM
Free 1-year trial with goggles purchase, $15/mo after.
Cancel anytime.
INCLUDED

Tracking & Analysis in App
PEACE OF MIND
Learn More
Free Holiday Returns
Until Jan 31, 2024

Free Carbon Neutral Shipping

2-Year Warranty
Details
Holiday Return Policy
We hope you enjoy FORM goggles. If you're not satisfied for any reason, you can return your purchase. Goggles ordered on formswim.com between October 31 and December 31, 2023 can be returned until January 31, 2024.
Free return shipping is available in the U.S. and Canada.


Free Carbon Neutral Shipping
We offer free 2-Day Express Home shipping to the U.S. when purchasing a FORM Goggles. In an effort to reduce our carbon footprint, we offset 100% of our carbon emissions.

See shipping for all countries


2-Year Warranty
The FORM goggles are built to last. Defects resulting from materials or workmanship are covered under Warranty. For more details, visit our warranty policy.